Toddlers are much too young and small to understand the reason for excitement of their first birthday, however, the parents can still enjoy it. Even though toddlers do not exactly appreciate unfamiliar, new, and strange faces of guests, the best way to celebrate your little child's first birthday is by holding a party without too many happenings and one that has a simple birthday theme. To celebrate your little baby's birthday, the following are some ideas of 1st birthday party themes for boys. We will discuss girls later!
Mickey Mouse Theme:
These adorable and hilarious characters are loved by children of any age. You can dress your child as Mickey Mouse as well as the male guests attending the party, while the females attending can dress up as Minnie Mouse. This makes a great 1st birthday party themes for boys!
You can get themed tableware, balloons, party favors, etc as they are ideal for your party. You want everything to be of the same theme. Also, for your child's 1st birthday party theme, your child should get a delicious, Mickey Mouse cake! To make a better effect of the party, you can always purchase little toys to lay around the house and hang from the ceiling.
Sesame Street:
Loved by all, some clever creatures to include in your party could be Ernie, Bert, Oscar, or Big Bird, from Sesame Street. These creatures educate AND entertain the children! Try to build the same effect for your child's 1st birthday party theme by having some educational games that can justify the theme, and of course having some Sesame Street essentials such as decoration items, like a banner, party favors, thank-you and invitation cards, and tableware.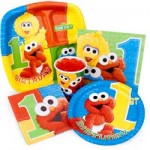 Balloon Party:
An excellent choice for a 1st birthday party themes for boys or even girls would be a balloon party! Kids will be attracted like anything due to this vibrant, yet simple theme. Considering the fact that at such a young age one thing your child can get excited at are bright colors, your toddler will perhaps enjoy this party the most! Purchase many green and or blue balloons for your son. To finish this theme off you should buy the balloon theme supplies such as banners, blowouts, tableware, napkins, cups, hats, etc. For party favors, you can add an inflated balloon so that the little guest that opens it is surprised when the balloon pops out, also you can add some candy and stickers! Every child loves candy, stickers, and balloons. Of course, be careful, as at that age balloons can pose a serious choking risk!
Overall, there are many different 1st birthday party themes for boys to choose from, however don't choose one that is not convenient for you. Make sure to choose a simple theme that is easy to plan and get prepared for, especially since your little one needs much attention.