Do you want to throw an amazing, unique birthday party for your son? A party that everybody will always remember? A party with a fantastic theme that everybody will enjoy? Well then, the Cars Themed Birthday Party is a great choice for you! Every child, and even some adults love the classic Disney movie Cars, so what is a better way to celebrate your child's birthday than with a Cars themed birthday party? To make this party the best that it can be you will need to invest into some Cars themed party invitations, decorations, supplies, favors, and games/entertainment.
In order to hold a birthday party for your child, you will have to send out invites. At the local store you will most likely be able to find and purchase Cars birthday party invitations, however, you may want to go for something a little bit more unique than store bought invites. Make your own! Be creative! One way to design the invitations would be to make them look like tickets to a car race and have a picture of Lightning McQueen on the front with all of the details. Though, try your best to still make it look like a realistic car race ticket. Another unique invitation idea would be to make Lightning McQueen or Mater the tow truck out of paper. Try to make them 3D looking. 3D invites is very unique. Then on the car you can write in all of the details. Be as creative as possible when it comes to the invitations because your creativity shown in them will give your guests an idea of how creative your party is going to be, and they won't want to miss such a wonderful themed birthday party.
Now that your party invites are all done and sent out, you need to work on the Cars themed party decorations. To start with you can make the entrance to your house a road or race track, to really set the mood and theme. Inside you can have a banner that is Lightning McQueen or Mater the tow truck hung on the wall that says, "HAPPY BIRTHDAY *Child's name* !!!" If you are to hold the party outdoors you can turn your backyard into the local race track, too. You can do this by placing down mats that look like roads in a circular way to make it look like a race track. Furthermore, you can decorate areas with checkered bandanas that act as the START or FINISH marks. Lastly, you can add anything you find that is Cars related such as Cars candles for the cake/cupcakes.
Even though you have invitations and decorations down pact, now, you still are not finished. You still need the Cars themed birthday party supplies! You need plates, cups, serviettes, table clothes, and balloons that are all Cars related! If you cannot find a table cloth with the characters from Cars on it, do not fret, what you can do as a substitution is get a table cloth that looks like a race track or road and place little Cars action figures on it so that it looks like they are racing. Now for plates. At your local store you will most likely find paper plates with all of the Cars characters on them, such as Lightning McQueen, Mater the tow truck, Sally, Doc Hudson, Luigi, and the rest of the gang! Same goes for serviettes.
No party is complete, however, without party favors. For some party favors for your Cars themed birthday party you can first get a baggy to put all of the favors in that have, once again, the crew from the beloved movie, Cars. Then you can fill the baggy with Cars candies, Cars action figure toys, Cars gum, and anything else to do with Cars. At the end of the party hand out the baggies to all of the guests.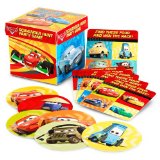 Now your party is pretty much complete, except for one thing, party games and entertainment. As mentioned in the decorations, you should make your backyard into the local race track. Once you have done that, you should get some cardboard boxes and cut the bottom of them so that one can stand through it. Next tie some string on the sides of the box so that it can be slung over one's shoulder. Once you are done this, paint it the box to look like Lightning McQueen or any other race car from Cars. Do this the day before the party and make a few of them. Make sure that you made everything so that it is proportional to your child and the other children. Now when the guests arrive the children can put on their cars and have a race around the track! The winner can get a prize. If you do not have time to do such things, or find that a little bit too difficult to do, you can always simply get a pinata! All children love pinatas and at any store that sells pinatas they will definitely have a Cars one.
Overall, if you follow all of these ideas you will definitely hold the best, most unique, and most memorable birthday party for your little one. So, in conclusion this is why you should hold a Cars themed birthday party for your little one.