You have just arrived to where you can get all things started, if you are looking for some circus theme party ideas for birthdays or whatever event is happening. You can definitely find all of the resources here that are quite helpful for your circus theme kids birthday party, starting from party decorations, party games and activity ideas and of course making your very own clown or circus theme invitation.
Customize all of the following resources here to your very own preferences, for the best, cutest, and most memorable party. This particular event theme will certainly bring about all of the excitement and fun and games for the children, no matter where you hold it! You can hold it at the beach side, a resort, in your house, or even in your backyard, no matter what your child will love and never forget this birthday. You can more carnival and fair theme ideas here.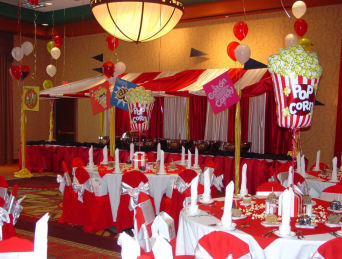 The invitations for the Circus Theme Birthday Party:
1.) Put some make-up on your child's face to make them look like a clown and also dress them up as a clown. Considering your child will look so adorable, you should then take a lovely photo of them using a digital camera to capture their cutest and funniest moments. In order to make your child really look more like a clown you can always have him or her hold a balloon or baton and take the picture with them like that. You can even have your daughter or son doing a silly clown pose such as balancing on one foot, and then after capturing the adorable photo, upload it to your computer and finish the rest of the invitation using 'text box.' If you do not know how to do this, it is really quite simple. All you have to do is:
Open a word document folder and 'copy' your photo into it.
In your word document click 'insert' then go to 'text box' and paste your photo into the text box.
In order to blend the picture and content you can adjust the level of transparency.
For spectacular photo design you can check out Google+.
2.) Print some circus or clown themes on paper. Then you should decide what shape you want your card and cut the printed picture accordingly. If the picture is a clown face, for example, cut out the shape of the face. Your invitation card will have this as its coverage. Fold some A4 paper in half and paste the picture on it as well as cut the paper according to its shape, too. Once you are completely finished making the card, write down the invitation content inside.
Decorations Make The Event:
1.) For practically all party celebrations, a very popular decoration would be a balloon arch. Use an aluminum rod that is long and thin (two PVC pipes), and depending on the size of the arch, lots and lots of balloons. Secure three balloons together on the aluminum rod and continuously do this so that your arch is fully occupied. To withstand the shape of your arch, you can use two aluminum rods (if they are very thin) and tape them together.
2.) With some colorful party streamers, blend your balloons and hang them everywhere across the ceiling. (Make sure they are really colorful.)
3.) You can always print some circus theme party photos from the internet and cut some colored paper into equilateral triangles in order to customize your party streamers. Then all you have to do is attach some string to the triangles and use colored tape to hang them up after you paste the photos you have printed off of the internet onto the paper.
4.) You can purchase some construction paper from the local department store and personalize your party banner at the entrance by using some of it. You then should print pictures from the internet or even draw some and paste them on. Also, on the entrance banner you can write neatly some content introducing the party such as, "Welcome to *insert name here's* Circus Birthday Party." Then you can color that content using coloring pencils or paint! To make the banner even more special you should allow your children to help by perhaps getting them to put their hand print on the banner or let them draw something on it.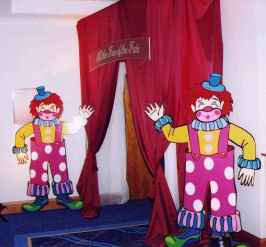 Games and Activities:
1.) Mighty Circus Balance: This game is very exciting, yet very simple.  All you have to do to start is tape the floor about two meters wide using some small black tape. Then, let your child use a kid umbrella for balance, and spin them around three or four times and get them to walk along the tape. You get a prize if you are the most successful player and manage to cross the tape without falling off! Make sure you give the other children prizes too, such as chocolate, for participating and trying their best.
2.) Balloon Tossing: As a single team game, all you do for this game is make a 'field' in your backyard or living room (the larger the better… call it the Circus Tent!) and get a few children to toss one balloon within it. For about three minutes, while the children are tossing their balloons in mid-air, play some circus themed music. Get the children to grab their balloon as quickly as possible once the music stops. Whoever is slowest is eliminated. Keep on playing until you have finally discovered a winner.
However, there are some twists:
If before the music stops and the balloon touches the ground or shoots out of bounds the player is disqualified.
If the music stops and somehow the child is fast enough to balance the balloon on their hand without it falling and sit down quickly at the same time, they win.
Also, you can have your child toss two balloons at once in order to make the game even more challenging.
Hopefully this will help you in making your Circus Theme Party a success! Good Luck!