A fantastic idea for a unique fair or carnival style birthday party for girls would be the cupcake themed birthday party. If you are looking for some great cupcake party theme ideas, then you have come to the right place.
To start with you want to send out invitations that look like cupcakes. The invitation should have a narrow bottom like the cupcake liners and a puffy looking top just like the top of a cupcake.  You can also add decorations on the puffy part so that it looks like there are sprinkles there, or you can simply add a heart or something along those lines to give the invitations a more unique look. On the outside you should write something along the lines of "You're invited!" where the 'cupcake liner' is, and on the inside the details should be added. Of course, there does not have to be an inside. You can simply write the details on both the front and back, or just the front, whichever way works for you. However, try to make the invitations as unique as possible, and make sure they stick to the cupcake themed birthday party.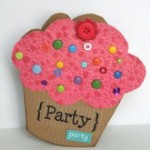 Next you probably want to work on decorations. There are many different, cool ideas for cupcake themed party decorations such as assembling a banner out of cupcake liners! This would add a very unique touch to your party, as well as tie it all together. A really adorable cupcake decoration would be making a 'cupcake bouquet.' If you are artistic, this would definitely be a great way to display the dessert of the party. Simply make a bunch of cupcakes, decorate them with sprinkles, and display them on a pot to look like a bouquet of flowers or a miniature bush. This is very creative and guests will simply love it. Another wonderful way to display the dessert, which probably should be cupcakes, would be to put the cupcakes on a miniature three tier stand and colour coordinate the cupcakes accordingly so that everything matches, or so that it is in the order of the rainbow! Make sure there is lots of pink and purple, and other colours from the rainbow. Also, decorate your party location with cupcake looking balloons. Fill them with helium, though, so that they float. You can get some ideas for that by visiting this article on circus themes with balloons as well.
Moving on to cupcake theme birthday supplies. For the supplies you will want some paper plates, serviettes, cups, straws, party hats, a table cloth etc.. If you can, you should try to find some plates that do not only have pictures of cupcakes on them, but are also shaped like cupcakes.  The serviettes should be shaped like cupcakes too! You can always just go with the serviettes and plates with pictures of cupcakes on them, but they are not quite as creative. You should try to get all of the party supplies in purple and pink, though, because that will really add to the effect. As far as utensils go, purchase plastic utensils and wrap them in the serviettes, kind of like what you would find at a restaurant. Also, do not forget about the table cloth. Children can be messy, especially at dessert time with cupcakes, so buy and set down a cupcake table cloth.
Lastly, there are themed party favours! For the party favours you can make or purchase little baskets, or baggies that are shaped like cupcakes. These baskets are the perfect accessory to your birthday party. For inside of the baskets and/or baggies you can put in balloons that are either shaped like cupcakes or have pictures of cupcakes on them. Also, you can add a cupcake making kit! That would be a brilliant idea because it would be fun for the children attending the party to have a chance to make their own cupcakes once they get home. Other things you can put into the party favours would be cupcake crazy straws! What child does not appreciate a crazy straw?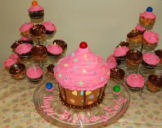 As activities at your cupcake party you should purchase a cupcake looking pinata. Every child loves hitting a pinata, and what is better to tie the whole party together than a cupcake pinata? Another game, though you will most likely have to hand make it, would be pin the tail on the donkey, but instead, pin the candle on the cupcake. You will probably be praised on your creativity, however, if you are to do this. Though the children will most likely not be bored at the party, you can assure they will not if you are to do a cupcake decoration. Make the cupcakes before the guests arrive and then purchase or make your own icing. Once the guests arrive, after a little while you can sit everybody down and let them decorate the cupcakes with sprinkles and icing. After that they can all eat them for dessert!
Overall, there is an infinite amount of ideas for a cupcake themed birthday party. Also, this party theme idea is very unique and definitely creative like a lot of other great themes at Theme This! Your party will definitely be one to remember and the children will absolutely love it and have great fun!