Are you looking for a new unique party theme where everybody will have lots of fun, and nobody else would have seen the party theme before? Sometimes it is hard to think up of cool and trendy ideas. Well here is something new, have you ever used a Paris party theme before? It would be lots of fun, and you can easily throw an enjoyable party. If you continue to read you will find plenty ways to decorate for this party, and how to plan it out in an organized fashion.
To begin with, lets design your invitations. It would be a good idea to have the Eiffel tower, or french bread on the invitation, and include some catchy phrases like "Oh La La" and more until you have a beautiful card to match a fun party. Don't forget to add the Paris party theme colors of black and pink. And if you can, have a pink poodle, for that is what most people see when they think Paris.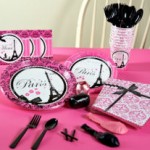 Now it is time for the decorations. Have lots of shoe cut outs, and pretty clothing to make everything fancy and expensive just like the real thing. Then you can include a couple of other things like balloons and ribbon. Pink and black are some nice colors to include, although you can also have a sparkles to tie up the look. Banners decorated with sparkles will also look great. Anything that reminds you of Paris is something to include in the party. When I think Paris I get the image of stores, and shoes, and poodles! Here is a simple list of the Paris party theme supplies:
 Invitations
Plates
Banner
Cake
Cardboard
Tablecloth
Balloons
Streamers
Cups
Food
Markers
Glitter glue
Napkins… And the list could go on depending on what you want to do for the theme party.
Now for some activity planning.  Decorate your own cardboard shoes with glitter glue and paint.  Decorate them with some sequins and glue on gems. Viola, some fancy and fun to make shoes. ( Of course that depends on the age group the party is being thrown for.)
Another good idea for the party is to have a sticker book sit down. You know the dress up sticker books? That would fit in just right, and you can allow your guests to keep their stickers!
Next for the Paris party theme favors. Of course you allow everyone to keep their creations, but then also have a small party favor, and it can just include a couple of little things. Pink poodles and bouncy balls, a pink and black pen, and a sparkly note pad. Inexpensive, and easy.
Last is the food. French bread, ice cream cake (black and pink) crackers and cheese, and other tasty treats that look nice and remind you of France. At this time you should be finished your Paris party theme planning. Have fun, and make sure everyone else can have fun too. You can always find more great party themes and ideas here!