Are you looking for a unique party idea that is entertaining and fun for both adults and children!? Well, we have the party theme for you! A western theme party! There are party invites, decorations, supplies, and games that stick to the western style! However, if you don't know what kind of invites, decorations, supplies, food, games, and party favors to go for here are some tips on how to hold the best, unforgettable party ever!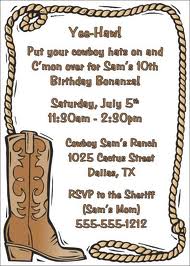 To start with, one of the most important things for a party would be the invitations. The invitations help the guests realize what the theme is, and obviously tells them all of the details regarding the theme of the party. To ensure that the guests understand completely that the theme is western, then you should try to make the invitations as rustic looking as possible. To do this, you can start by using appropriate colors. In the western days they had a lot of brown, yellow, and orange colors. Try to apply these to the invitations. Next you could decorate the invitations to look like saloon doors. Start by folding the card so that there are two flaps to open it. Then you cut these flaps into saloon looking doors. This is a very simple and unique idea that will definitely get the point across that the party is a western theme party. If you do not like that idea there are many other creative ways to express the party theme through invitations. Another invitation idea would be to make it look like a "WANTED" poster. On it you can add something along the lines of, "WANTED. (Guests name) at (address) on (date/time.)" That way it looks a lot like a wanted poster! How creative!
Next is the party decorations. Firstly, since it is you or your child's lucky day you guy's should dress up as the sheriff of the town. Everybody else can dress up as normal citizens. This will really add to the effect of the western theme. Furthermore you can make your happy birthday banner out of bandanas that are red and yellow! The seating arrangement should also look a little bit like hay bales. Everybody should get a party hat… that is actually a straw hat! That is an excellent way to keep the theme going. Obviously there will be other decorations such as streamers and balloons. Just try to get these decorations in the 'western colors' and everything will be fine. Another great idea for decorations would be to have a spot in your house or yard as a 'bar' or 'saloon' and that could be where you keep the beverages such as soda and juice. If the party is for adults you can also keep alcoholic beverages there. There are so many different options on how to decorate your western theme party.
Now let's talk about the general party supplies. The party supplies will include plates, table cloths, utensils, serviettes and cups. Any thing from red solo cups to super cool western cups will do. However, for the plates you should try to purchase some paper ones that have a picture of a cowboy on them. Also, try to get table clothes that look very similar to the plates and serviettes. As far as utensils go, simply use ordinary plastic ones. If you want it to look a little bit fancier try wrapping the utensils with a serviette kind of how they do that at restaurants.
Now for food. Every party needs to have some sort of food or snack. If the party is only in the afternoon and you are not serving lunch/dinner then chips in a bowl should be fine, maybe a few finger sandwiches. However, if you are feeding the guests a meal than you should find something that sticks to the theme and that everybody likes. Regardless of whether you are feeding them either lunch or dinner, you could always go for hot dogs. Hot dogs are easy to make and are a traditional party food, however, they are not really tied with the theme. If you want to make them blend in with the theme a little bit more, you can always try wrapping a bandana around the condiments. Though hot dogs are not really a traditional western thing, you can always make it blend in.
What about entertainment? If your party is for  children then you could always have a doe-see-doe competition and the winner gets a prize. You can also have a best cow boy costume contest or you could play the traditional pin the tail on the donkey. Donkeys are western. If the party is for adults, however, you probably would not appreciate pin the tail on the donkey, but instead, you too could have the doe-see-do competition.
Lastly we have party favors. As far as party favors go you can get loot bags and fill them with anything, really. If you want you can put in water guns so that the little cowboys and cowgirls really do feel like western people. Also, you can let them keep the straw hat that you bought for the costumes. From there you can add anything else, such as gum, candy, a yo-yo, anything that little children would like. Just make sure to stick them into a western style loot bag.
Overall, there is an endless amount of western theme party ideas, but there you go for all of the best tips on how to hold a wonderful party that could never be forgotten.